Razz Poker is a game that has been gaining in popularity over recent years, especially online at < 888 Poker. While Texas Hold'em is still the most popular game, more and more players are venturing out into other games. Games like Omaha, Stud, and mixed games like HORSE are attracting more players every day. As the 'R' in HORSE, Razz is gaining in popularity as well. You will need to download both sites to play Razz. We don't know any no download poker sites that offer this game online.
USA Players Please Read - There are currently no USA poker sites offering Razz poker. A great alternative you can try is Bet Online. While they don't support Razz, they do offer one of the best bonuses currently available to USA players.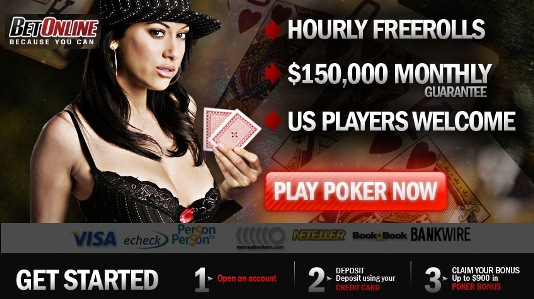 Best Razz Poker Sites
| US Players | Visit Room | Bonus | Promo Code | Rating |
| --- | --- | --- | --- | --- |
| No | | 100% – $600 | n/a - use links | 9.2 |
| No | | 100% – $600 | n/a - use links | 9.0 |
Razz Poker is a game where the player with the best 5-card low hand wins. Also known as 7 Card Low, Razz is a game that confuses a lot of Texas Hold'em and Omaha Hi players. Those with experience in low games tend to pick it up more quickly. You can play Razz poker for free at Party Poker. Use the party bets bonus code when you join for your free bonus.
At RazzPoker.net, our goal is to help every player improve their skills at Razz Poker. The truth is, Razz is an easy game to play, and an easy game to win. The majority of people who are playing Razz at Pokerstars and Full Tilt Poker are beginners, with limited knowledge of the game. Most of them are people who want to improve their HORSE game, and come to the Razz tables to try to learn it. Once they get a good idea of how to play, most of them go back to playing HORSE. This means that there is a steady stream of bad players coming through the Razz tables. This also means that there is a lot of money to be made by those who commit more time to learning Razz.
Razz Poker Rules
We will have a complete guide to the rules of Razz Poker, so you can learn the game quickly and easily, and start winning right away. The truth is that Razz Poker is the most beatable game played at online poker rooms today. With so many people looking to improve their HORSE game, more players are playing Razz….badly. I recently gave a friend a 3 minute tutoring on how to play Razz Poker, and within 45 minutes at a $2/4 game he had doubled his buy-in. He didn't do it through luck either, but he used the basic strategy I taught him along with common sense to beat the game. In less than 10 hours of play he has turned an original buy-in amount of $40 into almost $300….in his first 10 hours of play!
Razz Poker makes some players crazy, but those who learn how to play the game properly can wipe out most of the online opponents they will face. In 2003-05, Texas Hold'em was the game to make your money in. Then it was Omaha. Right now, the best games for making money are HORSE (Holdem, Omaha Hi/Lo, Razz, 7 Card Stud, 7 Card Stud Eight or Better), and Razz itself. Most players have a good idea on how to play the other games in HORSE, but Razz Poker befuddles most players. In order to improve their HORSE game, a lot of players dabble on the Razz tables, where they get their asses beat by players who understand the game more thoroughly.
We'll have plenty of articles that will easily explain the rules of Razz Poker, and instruct you on how to become a winning player.
Razz Poker Rooms
There are two good rooms for playing Razz Poker. They are Pokerstars and Full Tilt Poker. Both of these rooms offer plenty of opponents, and high enough stakes to make some good money. Not only that, but the Razz tables are getting busier and busier every day, which means that there are a lot of new players trying the game. Come back here and learn how to play Razz Poker properly, then go show them how it's played .
Pokerstars is the largest online poker room in the world, and they have plenty of Razz Poker players. If you don't already have an account at Pokerstars, write down our Pokerstars marketing code TEN500 and bonus code Stars600, then go to Pokerstars. Used together, our marketing code and bonus code will get you a bonus of 100% up to $600. Pokerstars has more tournaments, better promotions, and better customer service than any other room. Plus, the bonus is simple to clear, so it's an easy $600. Pokerstars also has a lot of Razz Poker guaranteed and sit-n-go tournaments as well. For more information, check out our Pokerstars Razz page.
If you want to work on your sit-n-go Razz Poker game, sign up at Pokerstars.
Full Tilt Poker is the second largest online poker room. They also have a good player base for Razz Poker. Whether you want to play in Razz ring games or tournaments, Full Tilt has you covered. Before heading over there, write down Full Tilt Poker referral code (bonus code) IPOKERORG. This will get you a big bonus of 100% up to $600. The clearing requirements for the Full Tilt bonus are about as good as they get for big bonuses. Plus, the bonus is paid in small increments which means your bankroll will continue to replenish itself. For more details about Razz at Full Tilt, read our Full Tilt Razz page.